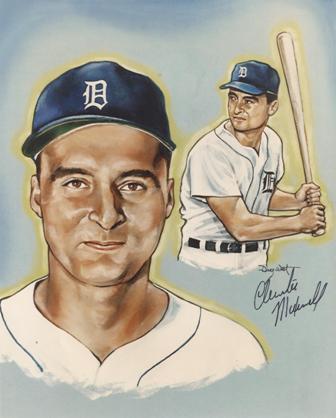 Charlie "Smokey" Maxwell, my nominee for the OBC Hall of Mediocrity! UPDATED 8-2-18
The following wantlist was provided by the kind and generous OBCer, Steve Rittenberg. A debt of gratitude is also owed another OBCer, Grant Rainsley for his enthusiastic support of Mr. Maxwell's induction in the HOM.
Although conscience dictates continued upgrading, hits of any condition to this list would recieve a MASH rating and an authentic Certificate of Appreciation from 6151 Cold Spring Trail, aka the House of Maxwell (not to be confused with Maxwell House). Thanks for perusing my list.
WANTLIST***ANY Condition***
1910-57 Baseball Magazine Poster (unnumbered)
1950s-70s Rawlings Advisory Staff Photos #72
1954 Boston Red Sox Photo Pack #20
1955 Orioles Esskay #15
1959 Venezuelan Topps #34
1960-64 Chicago White Sox Ticket Stubs 63-19
1961 T Stamps 128
1961 T Stamps Panel #24
1958-1962 Jay Publishing #394
1963 Jello #41
1979 Diamond Greats #246 (not sure it exist


Thanks to Richard Hankins, Ed Schott, Yuk Chow, Bob Schaub, Mike Wierzbicki, Neal Thomas, Peter Iversen, Steve Rittenberg X2, Linda Fitak, Mike Rich, Ron Perry, Mark Talbot & Mike Haines for their contributions to the House of Maxwell! A special thanks to Lynn Miller for a 52T Maxwell RC delivered 6/09/04!